Fares - One Way
To / From Brisbane Airport and Sunshine Coast
Meeting Points
** New Domestic Arrivals Meeting Place Information ** Click Here
** New International Arrivals Meeting Place Information ** Click Here
Your flight may arrive before our driver arrives into the terminal - Please wait at our designated meeting point for our driver to arrive.

All services operate on pre-booked seat reservations. If your flight is delayed or you are not ready for boarding you will be placed onto the next service that has vacant seats available.

Phone 07 5450 5933 - Office hours ~ Mon - Fri: 0700 - 1900 ~ Sat & Sun: 0700 – 1700.
Terms of Travel
Passengers will be transported by Cols Airport Shuttle upon the Terms and Conditions set out below.
Cols Airport Shuttle is not a common carrier and reserves the right to refuse carriage of any person, baggage or goods on any service and to remove any person from any service without having to give any reason therefore.

Cols Airport Shuttle shall not be liable or responsible for any loss, damage, injury, death or accident suffered or sustained by the passenger or to the property of the passenger, or for any loss or expense arising out of or resulting directly, incidentally or consequentially from any act, matter, cause or thing whatsoever, howsoever arising (and whether or beyond the control of Cols Airport Shuttle) including but without limiting the foregoing defects or breakdown in the vehicle used for the service, acts of God, acts of government or other competent authorities, strikes, thefts, delays, cancellation or variation in or to the service to be provided by or contemplated hereunder. Cols Airport Shuttle shall not be or become liable or responsible for any cost and expense or additional accommodation or sustained by the passenger and the passenger expressly acknowledges and agrees that all such liability, losses and expenses as aforesaid shall be the responsibility of and at the risk of the passenger.

Cols Airport Shuttle reserves the right to cancel this service or to alter or substitute routes, timetables, itineraries, schedules, carriers and accommodation reserved (if any) in any way that it considers necessary or desirable.

Refunds will be made at the discretion of the company who at all times reserves the right to charge cancellation fees and booking fees.

All cancellations must be made at least 24 hours before the time of travel.

No refund will be made if the person or persons named as passengers do not appear on the time and date of travel as arranged.
Door to Door Airport Transfers to your Home or Hotel
Save yourself the hassle and stress of trying to navigate unfamiliar roads. Con-X-ion provides a swift and efficient return transfer option from your accommodation to your favourite fun parks!.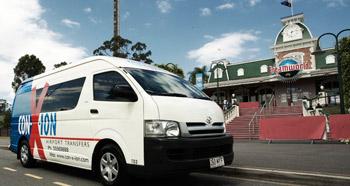 Book a Gold Coast Theme park transfer
ROOPASS®
The convenient Airport/Theme Park and Attraction transfer pass that gives the Traveller choice and flexibility and saves $$$. Valid for 30 days from first use of travel, the RooPass can be utilised any day within that 30 day period. Options available are 1 - 7 transfer passes including return Brisbane or Gold Coast Airport transfers.
Passes will include transfers travelling inbound to Gold Coast Hotel Accomodation only.
Book a ROOPASS®