Brisbane to Sunshine Coast Shuttle Bus
Air Shuttle's Point-to-Point Bus Transfers
Embracing an Amazing Climate While Travelling to Your Perfect Holiday Destination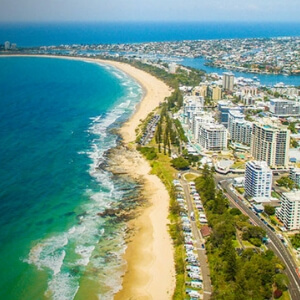 Brisbane to Sunshine Coast is one of the best holiday adventure you could look forward to when traveling in Australia. The road is a wide highway to beach towns, rural hinterland, and several sought-after surf spots to fuel up the outdoor adventurer in you. There are so many things to do and see while providing a solitary escape for your tired souls. Your adventure "down under" would indeed be the best via this adventure route.
Considered as the Mecca for tourists travelling in Queensland, the capital city is indeed one of the fastest growing regions in the whole of Australia. There is no shortage of things to do, places to go, and dining places to eat and feast in when you locate yourself within the awesome streets of the city. Also known as "Brisvegas," it is one of the destinations to beat in QLD.
Sunshine Coast is equally stunning and entertaining. A Brisbane to Sunshine Coast Bus is your best option to get to the best attractions the area has to offer. Some of the must-see destinations popular among locals and tourists include the Australia Zoo, SEA LIFE Sunshine Coast Aquarium, Glass House Mountains, Bellingham Maze, and the Aussie World.The best beaches in Australia are also located in this "always sunny" region of QLD. Kings Beach, Coolum Beach, and Mooloolaba Beach offer a wide option of water activities you can enjoy with friends and families.
Brisbane is not far from the list of best places to go in Australia. In fact, it is becoming a crowd favourite, welcoming millions of tourists all-year-round just to enjoy the experience and adventure the city offers. Fondly called "Brissie" by its locals, it is a perfect host for a vacation holiday for any age, personality, and choice of adventure.
Located near the iconic river, the CBD has a subtropical climate that offers a touch of history, elegance, fun and a lot of local experience, all in one place. A bustling city that surprisingly serves as a home to lush gardens and parklands located within the region. Almost everything is within your reach while lounging at the comforts Brisbane offers.
Air Shuttle is your best option when travelling from Brisbane to Sunshine Coast (and back). Our friendly staff and comfortable ride is the perfect ice breaker for your travel. Get the best experience even before reaching your dream destination by riding with us.
Sunshine Coast to Brisbane Bus
Traveling between Sunshine Coast & Brisbane is easy with Air Shuttle's Sunshine Coast & Brisbane buses. Guaranteed hassle-free and stress-free right from your booking to the end of your trip. Choose your preferred pickup and dropoff times and locations suited to your requirements. Let Air Shuttle transfer you in comfort to your destination as you sit back and relax aboard our modern buses.
Transit Stops
BP MooloolabaCaloundra Rd Info Centre
Coolum Ticket Park Bus Stop
Cooroy Motel Bus Stop
Eumundi Post Office
Forest Glen BP Northbound
Horton Parade Transit
Maroochydore
Moby Vics Shell Service Station
Mooloolaba Visitor Information Centre
Nambour Railway Station
Noosa Junction Station (Platform 1)
Noosa Parade Transit Stop
Tewantin - Atrium
USC Bus Stop (University of Sunshine Coast)
Woombye SPAR
The Ginger Factory
Top Things to Do & See for Brisbane <> Sunshine Coast Trip

The Cultural Precinct

One of its famous heritage destination located near the South Bank of the Brisbane River is the Cultural Precinct. It is home to several museums, art galleries, award-winning architecture and performance venue settled in an Instagram-worthy parkland. The Queensland Performing Arts Center is located in this strip where several world-class performances are hosted, including ballet, comedy shows, opera, and music concerts.
Brisbane Botanic Gardens

Another favourite attraction you should include in your destination lists is the Brisbane Botanic Gardens. It is a prime spot best for hosting picnics or a solitude escape away from the busy streets of the bustling city. Entry to the gardens is free and you can spend the whole day simply enjoying the beauty the serene oasis it has to offer. Highlights include a large collection of Australian rainforest trees, unique to most countries.
Kookabura River Queens Cruises

If your idea of a holiday is staying near the water, the Brisbane River is a sight to behold. It serves as the heart of several tourist destinations and activities in the area. You could start and end your day with a cruise ride at the Kookabura Rivers where you'll see the city in a different light. There are also several modern and old-world cruise ships to try, making it a one-of-a-kind experience even for regular Brissie tourists.
Lone Pine Koala Sanctuary

Getting close to the Koala is one of the sought-after experience you can enjoy when visiting Australia. You can try out this experience at the Lone Pine Koala Sanctuary where several animals are also hosted. There are wallabies, kangaroos, snakes, dingoes, crocodiles, and wombats in the compact yet stunning sanctuary. The Brisbane River is also ideally situated nearby making it a great venue to experience nature in the city.

The Ginger Factory

You and your kids will definitely enjoy spending time at The Ginger Factory. Admission is free and you'll be able to enter the fascinating world of live bees trained to entertain via a live bee show. Several varieties of honey are also featured and a great opportunity to take a sip from every variant available. There are also several puppets featured in the area, making it a real treat for the young ones and the young at heart.
Fraser Island

Considered as one of world's largest sand island, Fraser Island is a UNESCO World Heritage Site. You'll be able to enjoy plenty of sun as you take a tour at the bumpy yet entertaining terrain that brings you to the natural beauty of the island. Here is also home to the Lake McKenzie, the Pile Valley Rain Forest, and the Seventy-Five Mile Beach. Outdoor fun is plenty and indeed worthwhile in your trip to Fraser Island.
Bellingham Maze

A fun activity especially for group of friends looking for an exciting escape from work would be the star-shaped maze of Sunshine Coast. There are several mazes featured including a rope maze, timber maze, tire mazes, and a huge living hedge maze. Mini golf can also be tried out in the area as well as several other mind-boggling brain challenges. If you love the outdoors, you'll definitely want to include this on you itinerary.
Nights on Ocean Market

Nightlife is alive and kicking at the Ocean Street in Sunshine Coast. The street is literally closed to traffic and is turned into a dining destination where several food offerings are served in scheduled weekdays and weekends. There are also several craft markets located in the area. The atmosphere is vibrant and there are several bands featured to entertain tourists and locals every Friday evening, scheduled at least once a month.
Arrival & Departure Procedures
ARRIVAL PROCEDURE
All arriving passengers into Brisbane Airport are to proceed to the information counter where check in will occur with the Air Shuttle attendant. Passengers will then be directed to their departing shuttle (if you have booked a private transfer our staff will coordinate this for you). Please endeavour to check in 5 minutes prior to your scheduled departure to ensure the service can leave on time.
All arriving passengers into Sunshine Coast Airport are to make their way to the Air Shuttle counter prior to collecting their luggage. The departure schedule will be displayed at the counter. Passengers are required to be at the counter ready to depart 10 minutes prior to departure time. Passengers are expected to actively look for their driver who will be wearing a blue shirt and red Air Shuttle hat.
If you require assistance, please phone (07) 5450 5933
LATE FLIGHTS
Passengers arriving from delayed flights, who missed the last service of the day, are required to make alternative travel arrangements at their own expense. Passengers booked on/who missed the last service hour will be eligible for a refund for the unused service. If your flight has been delayed please contact Air Shuttle immediately on (07) 5450 5933.

*Please note: Our services are unable to wait for delayed flights or late passengers. Air Shuttle is not responsible for delayed flights.

 
DEPARTING PROCEDURE
Your service should arrive during the 20-minute window outlined on your confirmation. You must be ready and waiting for the entirety of your pick up window.
If you miss your allocated service please make contact with Air Shuttle directly on (07) 5450 5933 ASAP. Ask your hotel/concierge if you require assistance.
Please ensure your mobile is switched on in case we need to contact you.
Passengers that are not found may not be eligible for refund or reimbursement.
Please do not depart in a taxi without making contact with Air Shuttle first.