Brisbane to Gold Coast Shuttle Bus
Air Shuttle's Point-to-Point Bus Transfers
Close-to-Nature Access from the City to Australia's Best Beaches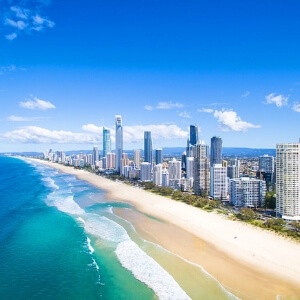 Brisbane has indeed rose from its humble beginnings to one of the most developed places in Australia, not only for businesses but as well as for tourists. It is a stunning, bright, and lovely city that enjoys a balance of city life access and nature adventures. An hour away is the coastal town of Gold Coast known for its hinterland, nature parks, golden beaches, and family-friendly adventures.
Recreational activities both for the old and the young are aplenty from Gold Coast to Brisbane, whether close to nature or amongst the busy streets of the capital city. It a perfect destination for some sun and some fun defined through the different appeals the city offers. With dozens of galleries, cinemas, concert halls, and theaters, you'll get an awesome musical experience in Brisbane.
Gold Coast, formerly known as South Coast, earned its name in a negative way. Due to inflations in real estate, goods and services in the area, everything was considered "gold" or pricey in the city. Even with a rough start in terms of appeal, the Gold Coast quickly rose into fame in terms of tourism attracting 13 million tourist and hundreds of thousands of new residents settling in. You'll feast your eyes on the Yatala and South Stradbroke Island located in the northern part of the area, the Beaudesert on the west region, and the Kingscliff and the Cabarita on the southern part of the city.
Brisbane to Gold Coast buses makes it possible for you to enjoy the delights of these two tourist havens. Fun games in several theme parks, several flea and street markets, sights and landmarks to take pictures and memories and a lot of activities to try perfect for families, solo travelers, tourists in groups and even backpackers.
Nightlife is bustling and exciting in Brisbane and Gold Coast. There are many parties where local bands and artists perform to entertain all through the night. If you prefer a more laid-back time at the Land Down Under, nature tripping with Australia's flora and fauna is a must adventure. You'll be able to get close to Koalas at the sanctuaries situated in the area.
Air Shuttle is your best option when travelling from Brisbane to Gold Coast (and back). Our friendly staff and comfortable ride is the perfect ice breaker for your travel. Get the best experience even before reaching your dream destination by riding with us.
Brisbane to Gold Coast Bus
Traveling between Brisbane & Gold Coast is easy with Air Shuttle's Brisbane & Gold Coast buses. Guaranteed hassle-free and stress-free right from your booking to the end of your trip. Choose your preferred pickup and dropoff times and locations suited to your requirements. Let Air Shuttle transfer you in comfort to your destination as you sit back and relax aboard our modern buses.
Transit Stops
IKEA, Logan Bus Stop
Beenleigh Train Station
BP Coomera
Caltex near Anaheim Drive Reserve, Hope Island Road
Surfers Paradise Transit Centre
Caltex Mudgeeraba
Top Things to Do & See for Brisbane <> Gold Coast Trip

Byron Bay Tandem Skydive

If you are up for some nerve-wracking experience, Byron Bay would be an ideal tourist destination you can access in Brisbane. Experience a different kind of freedom by jumping 15,000 feet above ground as you marvel at the beauty of the whole of Byron Bay and nearby surf beaches. You will be able to enjoy an adrenaline rush as you trail down to the ground with a licensed instructor in this exciting tandem flight adventure.
North Stradbroke Island

Thirty kilometers southeast of Brisbane is the North Stradbroke -- "Straddie" to locals -- a unique, beautiful, and timeless island that offers several exciting nature trips and experiences to try. The Myora Springs that features a fresh source of water and awesome wildlife should be first on your list. There are also several dance performances, storytelling, and cultural experience hosted by the Quandamooka people in the region.
Brisbane River Cruise

Embark in one of the most entertaining and relaxing water activity in Brisbane via a river cruise. You'll definitely enjoy the five-and-a-half-hour program as you get mesmerised at the sight of the waterside mansions and the bustling city as you glide along Brisbane's waterfront. You'll be more relaxed as you indulge with homemade teas and meals served during the trip. The cruise is concluded with a local Australian wine and beer together with musical entertainment.
Story Bridge Adventure Climb

Your 2-hour heart-pounding climb at the Story Bridge gives you access to a 360-degree view of the whole of Brisbane. Prepare as you climb from the base camp and then later on ascend on a spiral access that brings you to the suspended walkway under the Bradfield Highway. You will be able to see the surroundings as well as other neighbouring tourist destinations such as the Moreton Bay, Scenic Rim, and the Glass House Mountains.

Springbrook National Park

Dominating the wonderful skyline of the Gold Coast is the Springbrook National Park. This plateau is host to green and luscious forest over 6500 hectares and gives you access to 4 different majestic locations. The Springbrook Plateau, the Numinbah, Mount Cougal, and the Natural Bridge. There are also several lookout points, hiking opportunities, and a wonderful waterfall that will complete your nature trip.
SkyPoint Observation Deck

Located at the tallest residential tower in Australia, SkyPoint Observation Deck brings you 77 and 78 levels above the ground where you can enjoy a 360-degree view of the Gold Coast. Brace yourself and look below to see the beach, the busy city on the other side, and the lush forests located nearby. An outside walk 270 meters above the ground is also an experience you should try when in the tower.
Currumbin Wildlife Sanctuary

Another popular outdoor attraction in Gold Coast is the Currumbin Wildlife Sanctuary. Here you'll be comfortably seated in a train that tours you to different areas in the sanctuary where you'll get to see almost 1,400 animals. There is also a Top Challenge in the vicinity and other fun activities such as challenges and 11 ziplines to enjoy and conquer. Aboriginal dance performances entertain millions of tourists who visit every year.
Purling Brook Falls

One of the largest waterfalls situated at the Springbrook National Park is the Purling Brook Falls. It is located southwest of Surfers Paradise and near the famous hinterland of Gold Coast. This 110-meter waterfall flows into the rainforest valley where Australian flora can be discovered. Access the Purling Brook Falls via a suspension bridge from the National Park as you take in the beauty of the rockslides and downstream located beneath.
Arrival & Departure Procedures
ARRIVAL PROCEDURE
All arriving passengers are to collect their luggage, clear through customs and proceed toward the glass sliding exit doors at the northern end of the terminal.
Passengers are to wait inside the terminal under the Transit Centre Sign until a driver makes contact.
Passengers are expected to actively look for the bus branded with Air Shuttle insignia and to keep an eye out for your driver who will be wearing a blue shirt and red Air Shuttle hat.
If you require assistance, the Gold Coast Tourism Visitor Information Centre is located in the terminal opposite the car rental booths for assistance. Otherwise, please phone (07) 5450 5933.
LATE FLIGHTS
Passengers arriving from delayed flights, who missed the last service of the day, are required to make alternative travel arrangements at their own expense. Passengers booked on/who missed the last service hour will be eligible for a refund for the unused service. If your flight has been delayed please contact Air Shuttle immediately on (07) 5450 5933.

*Please note: Our services are unable to wait for delayed flights or late passengers. Con-X-ion is not responsible for delayed flights.

 
DEPARTING PROCEDURE
Your service should arrive during the 20-minute window outlined on your confirmation. You must be ready and waiting for the entirety of your pick up window.
If you miss your allocated service please make contact with Air Shuttle directly on (07) 5450 5933 ASAP. Ask your hotel/concierge if you require assistance.
Please ensure your mobile is switched on in case we need to contact you.
Passengers that are not found may not be eligible for refund or reimbursement.
Please do not depart in a taxi without making contact with Air Shuttle first.