Brisbane to Noosa Shuttle Bus
Air Shuttle's Point-to-Point Bus Transfers
Easy Access to Queensland's Major Tourists Destinations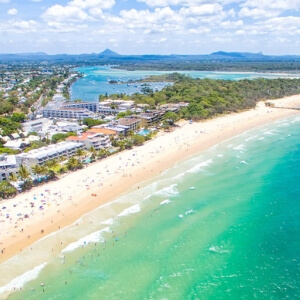 Brisbane is known as the heart of all of Queenland's famous destinations. A 2-hour bus ride from Noosa to Brisbane will give you access to the city's best restaurants, clubs, museums, activity areas, and exciting rides. Impressive scene and popular areas where you'll get to see the rest of Brissie's beauty are what the city is known for. Noosa, on the other hand, offers a quaint escape from the city's busy lights.
It is no surprise that you can do a lot of things in Brisbane, most of them for free. Nature walks and visits to the city gardens are one perfect example of free and relaxing activities to do in the city. South Bank offers you a free dip into its man-made massive lagoon located in Street Beach. The Queen Street Mall is also a favourite tourist destination situated in the area.
Art and culture is also very rich in Brisbane. You can check out several art institutions like the Museum of Brisbane, the Queensland Art Gallery, and the Gallery of Modern Art. There are also several local and international exhibitors featured all throughout the year for free at the QAGOMA. The QPAC's Green Jam is also a must-experience you should not miss. There are plenty of artists that entertain the crowd with free live music. Comedy sessions are also plenty in the area and are usually hosted every Friday to welcome the weekends. Buses from Noosa to Brisbane can give you an insight on the other activities to enjoy in the area.
South of Sunshine Coast is the lazy region of Noosa. It is known to be a resort area where tourists visit by the hundred thousands due to its remarkable surfing experience. The coastal trail also features several cafes, boutiques, and parks where you can rent a sailboat or a kayak to enjoy and explore the open sea.
Several other interesting places to see in Noosa includes the Noosa National Park, the Noosa Everglades, Lake MacDonald, and Lake Cootharaba. Tea Tree Bay serves as home for Australia's iconic koalas where you can visit and experience the best of Australia's fauna. The Noosa Botanic Gardens is also conveniently situated nearby.
Air Shuttle is your best option when travelling from Brisbane to Noosa (and back). Our friendly staff and comfortable ride is the perfect ice breaker for your travel. Get the best experience even before reaching your dream destination by riding with us.
Brisbane to Noosa Bus
Traveling between Brisbane & Noosa is easy with Air Shuttle's Brisbane & Noosa buses. Guaranteed hassle-free and stress-free right from your booking to the end of your trip. Choose your preferred pickup and dropoff times and locations suited to your requirements. Let Air Shuttle transfer you in comfort to your destination as you sit back and relax aboard our modern buses.
Transit Stops
Noosa Junction Station (Platform 1)
Noose Parade Transit Stop
Tewantin - Atrium
Top Things to Do & See for Brisbane <> Noosa Trip

Roma Street Parkland

The 40-acre Roma Street Parkland is considered as the largest urban subtropical garden, not only in Australia, but in the world. It is a slice of land divided into five astonishing and relaxing district adventures: The Colin Campbell Place, The Spectacle Garden, Celebration Precinct, Forest and Fern Gully, and the Lake Precinct and Upper Parkland. With this alone, you can spend the whole day entertained and relaxed in the bubbling creeks and walkways in the area.
Museum of Brisbane

Situated at the fourth floor of the iconic Brisbane City Hall is the Museum of Brisbane. Aimed to keep in touch and share the city's history with both locals and tourists. The museum features over 120 exhibits, divided into five galleries, where artworks from local artists such as Rischar Randall are featured. The museum also features the Dome Lounge, an area where you can sit down and take a sip while taking a break from mesmerising the attraction's exhibits.
CityHopper

Considered as one of the several ways to enjoy the sights that Brisbane offers is the CityHopper Ferry. It is a free service that allows you to hop in and travel between North Quay and the Sydney Street. It also passes by the other sought-after attractions in the area such as the City Botanic Gardens and the Story Bridge. You can take souvenir photos of yourself or of the mesmerising area as you cruise along the relaxing Brisbane River.
Suncorp Stadium

Suncorp Stadium is located 2 miles northwest of the Milton neighborhood in Brisbane. It is the regular host for rugby matches and other local and national sporting events and teams like the Queensland Reds, Brisbane Broncos and the Wallabies. Football and soccer games are also hosted in the area. On non-sporting event days, you can still visit and simply enjoy touring the public facility.

Noosa Horses

If you feel like getting a little bit extra closer to nature, you'll definitely have to include a horse ride on your itinerary. There are several ways on how you can enjoy the beach and one of them would be through a horse ride along the coast. This is what the Noosa Horses are known and trained for. You'll feel like a God or Goddess trailing along the settling sun as professional horse trainers guide you as you gallop away through the morning, or even when the sun sets.
Noosa Everglades Wilderness Cruise

Whether you prefer travelling alone or with a crowd, a trip down the Noosa Everglades Wilderness would be best experienced over water. Book a cruise or rent a canoe to be able to sit back and relax as you embrace the beauty that the Everglades Wilderness offers. Tours start early in the morning with a light snack before you head down the River of Mirrors. The escape is a camera-ready destination you should not miss.
Noosa Beach House

Noosa offers almost anything best about Australia. This includes food and dining options. You'll satisfy your palate as you check out Chef Peter Kuruvita's Noosa Beach House. The surfboarder also happens to be a master of the kitchen and serves the best seafood in the area. You'll also get to experience a fusion of European and Asian cuisine with burnt orange, cashew, macadamia, and the must-have watalappan from the restaurant's menu.
The Vintage Junction

Another best thing about Noosa is its friendly countryside. The village of Cooran is home of the famous turmeric latte that can be enjoyed at The Vintage Junction. This cafe cum curiosity store is a unique destination where you can see a lot of retro Australian memorabilia and magazines that go as far as the 50s. The junction is also very proud of its picturesque and charming track, less travelled but deeply loved by tourists and locals.
Arrival & Departure Procedures
ARRIVAL PROCEDURE
All arriving passengers are to make their way to the Air Shuttle counter prior to collecting their luggage. The departure schedule will be displayed at the counter.
Passengers are required to be at the counter ready to depart 10 minutes prior to departure time.
Passengers are expected to actively look for their driver who will be wearing a blue shirt and red Air Shuttle hat.
If you require assistance, please phone (07) 5450 5933.
LATE FLIGHTS
Passengers arriving from delayed flights, who missed the last service of the day, are required to make alternative travel arrangements at their own expense. Passengers booked on/who missed the last service hour will be eligible for a refund for the unused service. If your flight has been delayed please contact Air Shuttle immediately on (07) 5450 5933.

*Please note: Our services are unable to wait for delayed flights or late passengers. Air Shuttle is not responsible for delayed flights.

 
DEPARTING PROCEDURE
Your service should arrive during the 20-minute window outlined on your confirmation. You must be ready and waiting for the entirety of your pick up window.
If you miss your allocated service please make contact with Con-x-ion directly on (07) 5450 5933 ASAP. Ask your hotel/concierge if you require assistance.
Please ensure your mobile is switched on in case we need to contact you.
Passengers that are not found may not be eligible for refund or reimbursement.
Please do not depart in a taxi without making contact with Air Shuttle first.